As of now, there are THREE (3) tiers: Mercury (Basic-Tier), Venus (Mid-Tier), Saturn (Top-Tier). There are varying incentives and requirements for the respective tier.
A minimum of 0 points is required to be qualified for the Basic-Tier.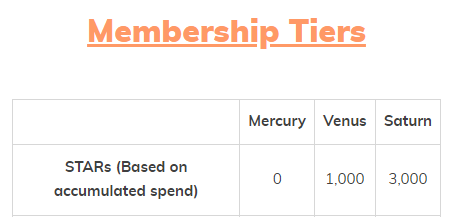 Guest below the 15 years old would require their parent/ guardian consent to sign up and agree on the terms and conditions of the rewards program on their behalf; giving consent to provide their child/ ward's personal information.
Yes, points earned by supplementary members will be added to the principal cardholder only. *Science Centre Singapore reserve the rights to verify documents as proof of relationship between the principal and supplementary account holder.
You may sign up for our rewards program at or approach any our staff onsite.
Mercury (Basic-Tier) has no expiration date. However, Venus (Mid-Tier), Saturn (Top-Tier) have a validity period of 12 months from the date of your account upgrade. Regardless of your tier, the accumulation of expenditure period for all are capped at 12 months from the date of your account upgrade.
Each guest can create ONE(1) account only.
Yes, your will automatically be reverted to a preceding tier after each assessment period. Account holders would need to spend the minimum amount to sustain their current tier.
Here is the overview of the reward program privileges.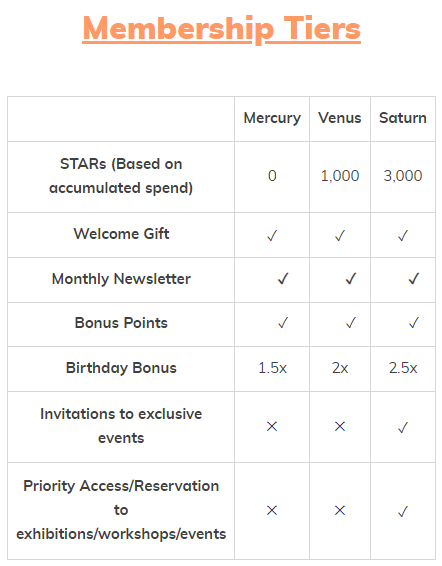 Earn 10 points for every S$1 spent. Accumulate points to redeem rewards via our catalogue here .
*Note: Points will be rounded down to the nearest S$1. (Eg: S$6.90 = 60 points)
Each member can earn a maximum of 5,000 points per day.
You may do so via your rewards portal . For further assistance, you may reach out to us at members@science.edu.sg.
Yes, the reward points are valid for 12 months from the date of the issuance. Do log in regularly to the rewards portal to check for your points status.
You may redeem it through our rewards portal . All Stars (Points) will be forfeited after the expiration date.
No, all Stars (Points) transactions are non-refundable, non-transferrable and non-exchangeable.
No minimum spending required to join our galaxy (rewards) program. You may join our Galaxy (Rewards) Program here